NLamens wrote:
So while I get back to fighting weight....I decided to pick the 10 most influential furniture designers in history.
Here's the link:
http://furnitology.blogspot.com/
What do you guys think????
Everyone is going to have there own views or tastes. Socioeconomic status, demographics and regional influences will also play apart in determining our top ten. If you go into most of your common furniture stores today and look at what they are selling - its big, bulky, Look back in time to the Pilgram Period in this country.
As far as Neil's list goes - I think, the Shakers should be #1. Here are my reasons:
1. Their designs have stood the test of time.
2. Peaceful and harmonious.
3. Simple
4. Often imitated
5. Innovative
6. Green technology - barrowed light
The list goes on. Not only was the list applied to furniture but also incorperated into their architecture.
Even to this day, their stair rails have just as much style or more than whats available currently.
IMHO, this is hideous. I wouldn't waste my money on something like this or even have it in my house. So this designer to me is irrelevant.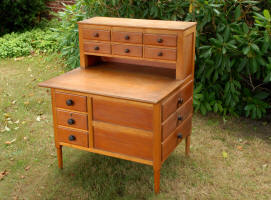 Beauty in simplicity.
Form follows function.
Townsend & Goddard
Maloof
Castle
Greene & Greene, Roycraft, Stickley